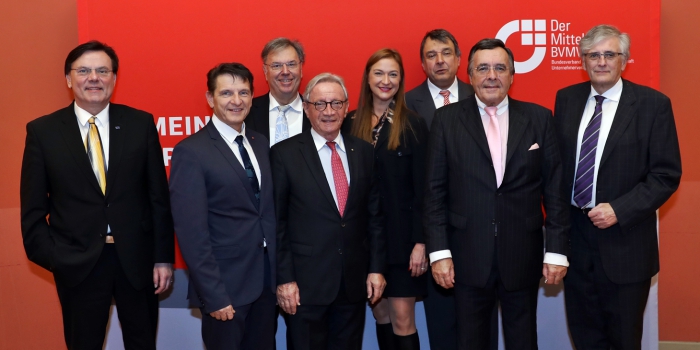 The president of the EVBB and the IB Chairman of the board Thiemo Fojkar (1st from left)
is also the new member of the Executive Board of BVMW.
European Entrepreneurs CEA-PME President Mario Ohoven has been re-elected as President of Bundesverband mittelständische Wirtschaft (BVMW).
President Ohoven has been reconfirmed in his role with unanimous votes by the Federal Assembly of the Association in Dresden.
Originally from Düsseldorf, Mr Ohoven is recognised nationally and internationally as a flagship entrepreneur. He was first elected to the top of the most important German SME association in 1998 and re-confirmed several times, always with an overwhelming majority of votes. During his tenure, the membership of BVMW increased by 300%. The number of the organisation's branches in Germany has more than tripled to 300 nationwide, plus 35 offices around the world.
He has been leading the European Entrepreneurs CEA-PME association with the same commitment. Under his tenure the confederation has acquired numerous new members, started many new initiatives and joined ground-breaking European projects.
News Source: CEA-PME