Adalbert Kitsche Foundation
in connection with the
European Association for Institutes of Vocational Education and Training (EVBB)
The Adalbert Kitsche Foundation in the European Association for Institutes of Vocational Education and Training (EVBB) was established as independent non-profit foundation on 25 November 2003 and enlarged by a second contract on 12 December 2006.
The foundation and its purposes
award the "DIE EUROPA" Prize
promote the integration of culture and art in the educational process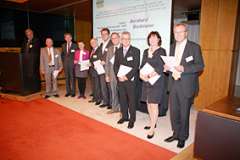 The Adalbert Kitsche Foundation acts in a selfless manner and is a non-profit organization.
Professor Dr. habil. Dr. h. c. Richard Teßmer, who is currently the Vice President of the EVBB,  observes the cooperation between the foundation and the EVBB Executive Committee.
The Board of Directors of the Foundation (Chair Dr. Adalbert Kitsche) is assisted by the foundation's board of trustees, the members of which are appointed by the Foundation's Board of Directors.
The Terms and Conditions contain a lot of information on the foundation regarding et al. executive bodies, jury of the Adalbert Kitsche Foundation, assessment scale to award the "DIE EUROPA" Prize