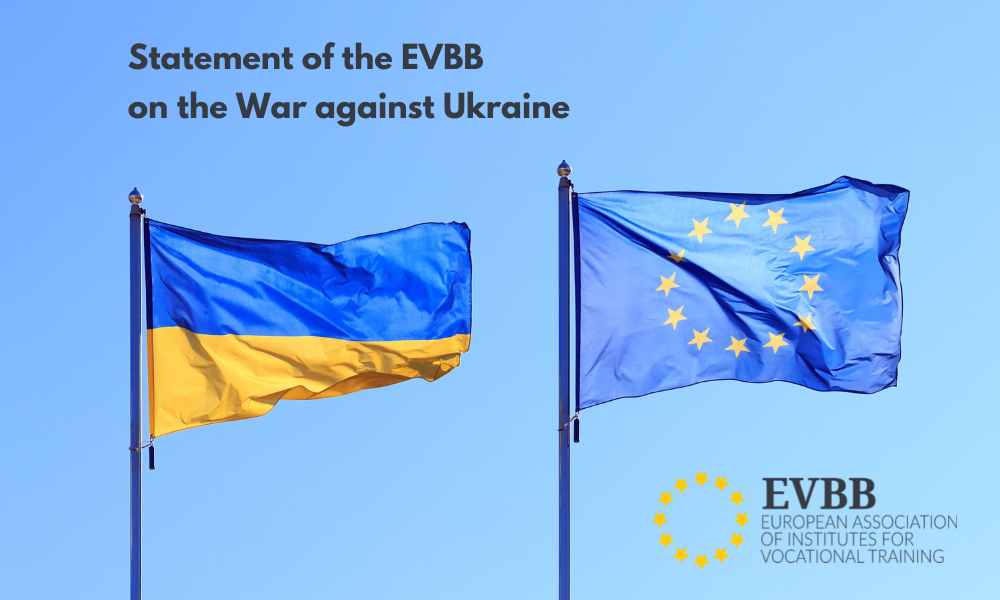 Statement of the EVBB
on the War against Ukraine
The European Association of Institutes for Vocational Training (EVBB), is an international umbrella association of independent and non-profit providers of educational and vocational training representing more than 65 members, with more than 32.000 teachers and 3 million learners. We are all aligned to a liberal minded general and vocational education including social, economic, and socio-political issues that will provide equal opportunities for all. Education and vocational training are per se related to the political context in which they occur and are thereby designed to directly promote international understanding and to contribute to peaceful coexistence in the one and only world in which we live. This is what EVBB has expressed in its statutes. Within this context, we are all extremely shocked by the images of war, and the wide humanitarian catastrophe being currently conducted in Ukraine. All across Europe and beyond, we see people and Civil Society groups call for peace and to condemn any act of aggression and violence causing tragedies, traumas and ultimately death in Ukraine, the heart of Europe. We unite our voices to theirs, urging all parties responsible for this aggression against Ukraine and finally against all of Europe to immediately stop this invasion and return to peace.
Accordingly, all members of the EVBB Executive Committee are joining their voice to strongly condemn the attack on Ukraine and express their solidarity with the people of Ukraine.
Thiemo Fojkar (BBB)
President of the EVBB
And the EVBB EXECUTIVE COMMITTEE members:
• Vice president: Dr. Margarida Segard (ISQ)
• Vice president: Mr. Konstantinos Rodopoulos (AKMI SA)
• Vice president: Prof. Dr. Bernhard Beckmann (EBG)
• Vice President (Treasurer): Mr. Marek Nikel (Euro Projektservis s.r.o.)
• Member of the Board: Dr. Christophe Sadok (AFPA)
• Member of the Board: Dr. Panos Milios (DIAN)
• Member of the Board: Mr. Nicolae Cernei (FRG Timisoara)
• Member of the Board: Prof. Dr. Dolores Sanchez Bengoa
(University of Applied Management Studies, Internationaler Bund)
• Member of the Board: Mr. Sebastian Frank (ÖJAB)
• Member of the Board: Mrs. Vivian Welker (Folkuniversitetet)
• Secretary General: Mr. Theodor Grassos (EVBB)
• Secretary General (Deputy): Mrs. Monica Verzola (ENAIP NET)
• Honorary President: Werner Sigmund (Internationaler Bund)
For Press Inquiries, please contact:
Office of the European Association of Institutes for Vocational Training
Theodor Grassos
Secretary General
Avenue de la Renaissance 1
B-1000 Bruxelles
+32 497 137761