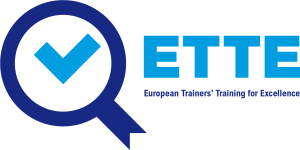 ETTE – EUROPEAN TRAINERS' TRAINING FOR EXCELLENCE

ETTE aims to lay the groundwork for mainstreaming VET Centres of Excellence (VCEs) both as a concept and a reality on the ground. ETTE's partnership is committed to strengthening and extending VCEs' networks and cooperation as a first step to consolidate and spread its model along with the VET quality and excellence principles all over Europe. By focusing on trainers and practitioners, the project directly addresses VET professionals with a view to boosting synergies and transnational partnerships among them. The wider goal is to build up a systematic and cooperative framework to promote further training, lifelong learning, upskilling and reskilling within the VET sector.
For the main project page, please visit the website of the lead partner, the European Vocational Training Association (EVTA).
Methodology
ETTE combines the trainers' training with transnational mobility with a view to promoting a systematic approach to quality improvement. Its implementation will bring together VET trainers, experts and practitioners representing different local versions of excellence in order to provide them with the opportunity to share best practices and learn from each other while testing and finetuning training circuits. The project prioritizes a bottom-up and multifaceted approach towards the promotion and mainstreaming of excellence principles. It complements the definition of a common European framework with the valorisation of local, regional and national specificities with respect to the implementation of VET excellence.
The Specific Objectives:
1. Promoting the continuous professional development of people working in VET through the participation to piloting training aimed to discover the VCEs and to test the efficiency and the quality of their training circuits
2. Promoting the exchange of good practices between partners to exploit synergies and foster transnational partnerships
3. Consolidating and enlarging the VCEs network including new organisations, training centres and circuits
Expected Results:
Increased awareness of the relevance of quality in VET provision
Enhanced quality of services within the VET providers involved in the project
Definition/establishment/creation of a framework for further training and lifelong learning among VET trainers
Training of a first group of trainers on VET excellence
Promote the concept and reality on the ground of VET Centres of Excellence (VCEs)
Improve high-standard VET training circuits
Finetune the VCEs Catalogue
Enhanced and extended cooperation within the VCEs' network
By sharing good practices and testing training circuits, the partners intend to provide an innovative instrument whose quality is built upon standards commonly agreed and verified experts working on the field. The ETTE project clearly privileges a bottom-up approach in the propagation of excellence.

KA2 – Cooperation and Innovation for the Exchange of Good Practices
KA202 – Strategic Partnerships for Vocational Education and Training
Targets 
VET Trainers and Practitioners
VET Trainees and Learners
VET Providers
SME Entrepreneurs
VET Stakeholders
Duration
2 years (24 months)
Started October 2018
Partners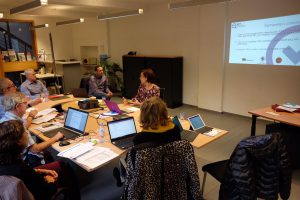 EVTA (BE)
ENAIP NET I.S. (IT)
AFPA (FR)
LE FOREM (BE)
TECHNIFUTUR (BE)
CEFOCHIM (BE)
IME-GSEVEE (GR)
ENDURANCE (NL)
EVBB (DE)