Pre-Registration for Testing
This free online course deals with these 6 learning and publishing technologies: EPUB3, VR, AR, Interactive Videos, Video 360° and Augmented printed materials (e.g. QR Codes). It is being developed in the course of the Erasmus+ project "DIMPA (Digital Innovative Multimedia Publishing for All)" and will be freely accessible from autumn 2020.
MOOC participants can choose between 3 different paths, each of which will introduce them to 2 technologies – or they can complete all paths and thus gain an insight into all 6 technologies.
In addition to practical application examples as well as learning materials and instructions, which can be used even after participation in the MOOC, the participants themselves create individual materials for their everyday work.
Interested parties can pre-register here: http://www.dimpaproject.eu/
Further information about the project can be found on this website too.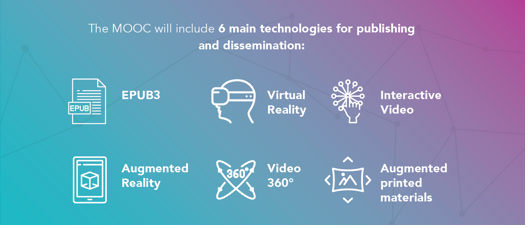 The #DIMPAproject has been funded with support from the European Commission.  
Its content and material reflect the views only of the authors, and the Commission cannot  
be held responsible for any use which may be made of the information contained therein.  
Project code: 2018-1-FR01-KA202-048220