The fine bronze statuette of a standing female person with wings, approximately 50 centimeters high, symbolizes  "DIE EUROPA".
The figurine's head is modeled on the head of the dove of peace.
The statuette was created by the painter and sculptor Ladislav Dryak coming from the former Czechoslovakia. The sculpture symbolizes a peace-building and liberal Europe. Its wings shall protect this thought and carry it to the countries in all of Europe and the world. The artist was inspired for this piece as for his other works by the myths of classical antiquity.
The prize is primarily awarded to educational institutes and partners of the EVBB contributing with their project to the educational process disadvantaged people undergo. The sculpture may be awarded in recognition of the extraordinary merits for Europe and the foundation.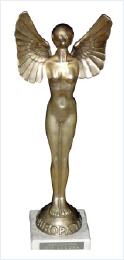 Promotion of arts and culture in the educational process
The painter and sculptor Ladivslav Dryak donated some of his works of art to the Adalbert Kitsche Foundation (pictures, sculptures, drawings, etc.) and gave a number of his works (such as  the "Don Quixote cycle") as loans. They can be seen open to the public and accessible for the education system at the "PERMANENT EXHIBITION" in the rooms and in the EUROPAGARTEN of the EBG (European Occupational and Societal Training Center) in Magdeburg-Westerhüsen. Youths in particular shall take part in workshops, practical exercises and discussions in terms of the purpose of the foundation (connecting education, arts and culture).
Other works of art of the artists Gert Bayer's "Gebeugtes Kreuz" and Klaus Gehlen's "EUROFUSION" were given as a loan and are on exhibition in the EVBB Europagarten.
Works of art may be on loan of the foundation to exhibitions of other institutions, for example. Objects of art of other artists may be on loan or donated to the Adalbert Kitsche Foundation presented open to the public and accessible for education work in the Europagarten or in the rooms of the EBG.
The Foundation sponsored the publication of the book "Europa – Stier und Sternenkreis"
The Jury
Members of the panel who award the "DIE EUROPA" Prize:
Marlies Busch, rector, Düsseldorf
Janina Boers, Dipl. – Soc. Scien., health manager, Kerken
Helmut Flöttmann, formerly Head of training at the Miele Cie. & Co. KG company, member of the EVBB advisory board, Gütersloh
Gisa Kellermeyer, née Wuppermann, Senior established graduate teacher, Mühlheim a. d. Ruhr
Dr. Heinrich Lippert, personnel management, media educator, Koblenz
Prof. Dr. Dr. h. c. Günter Wiemann, vocational education teacher, Braunschweig
Ulrich Wiehaupt, Senior established graduate director (vocational school), Chair of the Federal Consortium School/Economy, Kronshagen
Pastor Edurad Wörmann, Protestant Church, Soest
Professor Dr. Dr. mult. Gerd-Bodo von Carlsburg, Sinsheim
Guido von Fürstenberg, Graduate Social Pedagogue, Löhne
Gisela Sosna, Iserlohn, special needs schools