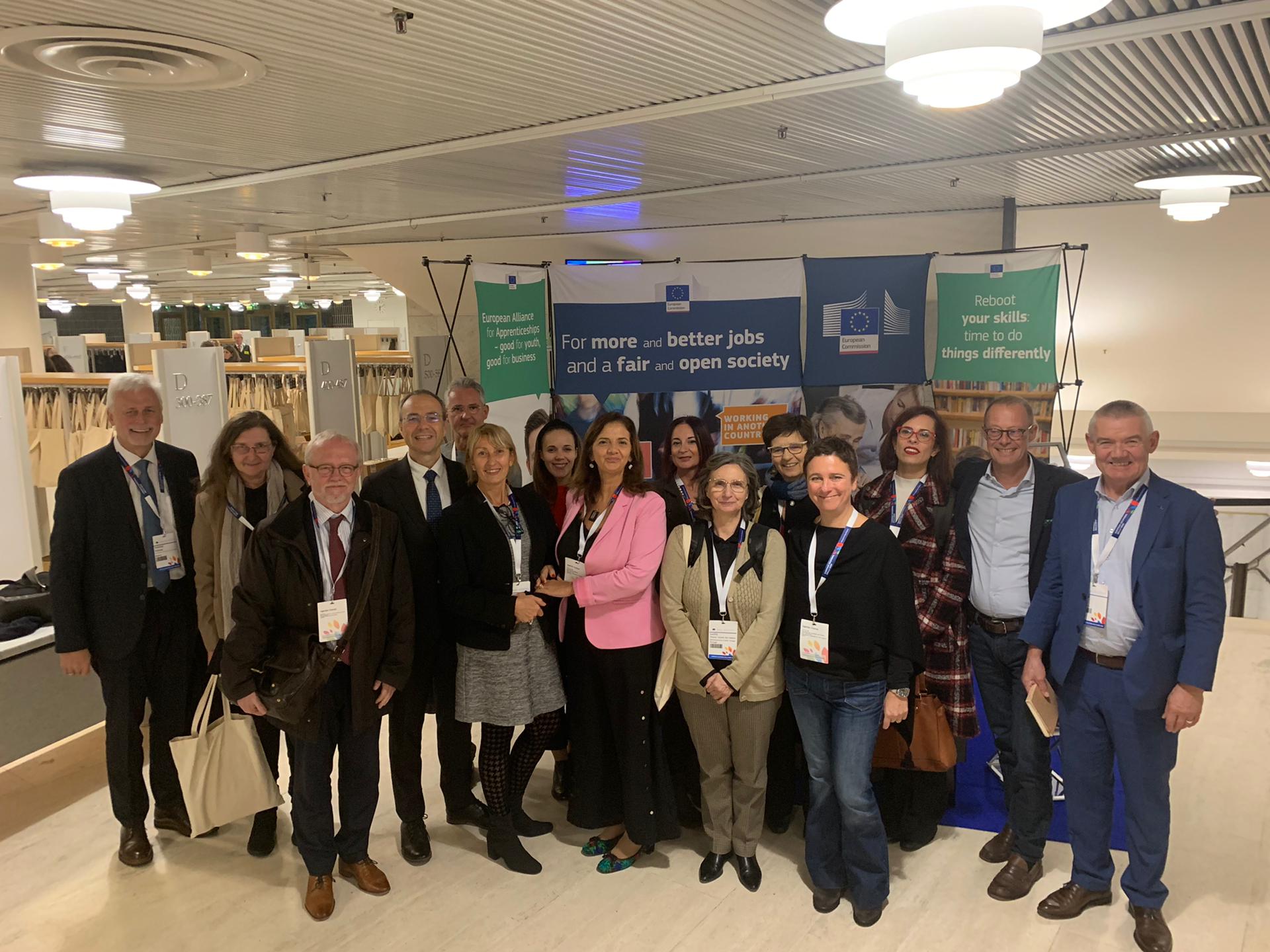 During the European Vocational Skills Week 2019 in Helsinki, EVBB actively moderated and participated in different working groups, particularly in the Working Groups of the Community of Learning Providers initiated by CEDEFOP and with the support of the Commission – DG EMPL.
EVBB was represented by its president Thiemo Fojkar, Secretary General Horst Dreimann and members ISQ (Margarida Segard), DIAN (Panos Milios), German-Bulgarien Training Centers (Lubov Popova), AFPA (Hélène Seidenberg), ENAIP (Monica Verzola), Technifutur (Christine Mertens), BFI (Othmar Friedl), HdWM (Dolores Sanchez-Bengoa). EVBB's cooperation partner SOLIDAR was represented by Lucie Susova.
 On occasion of the CEDEFOP run events on Monday 14th and Tuesday 15th October, EVBB moderated Working Group 3 on Migration and was also attending the 2 other Working Groups on Technologically Enhanced Learning (TEL) and Mobility. The results of the three working groups were presented on two occasions – in the presence of representatives of the Commission (João Santos and Anna Barbieri) and CEDEFOP (Loukas Zahilas and Tina Bertzeletou).
You can find here the "short report" of the results. 
The final report will be published beginning of 2020 and shared with all parties involved as well as EVBB members.
About the European Vocational Skills Week:
The EVSW 2019 featured important events, such as the ceremony of the VET Excellence Awards 2019 on the 17th October (see results).
Even though the week ended on Friday 18 October, the campaign is far from over: there are plenty of events that still need to happen until the end of the year.
The Week is an initiative from the European Commission to raise awareness about vocational education and training (VET) and increase its attractiveness.
Events and activities are taking place during 2019 across Europe as part of the Week, aiming to make VET more of an appealing proposition, and help young people and adults reach their full potential.
As at today, over 1,500 events from 45 countries have been registered as part of the Week, and these have reached a record 2.5 million people. The numbers keep growing! The events taking place all over Europe – locally, regionally and nationally – will showcase the immense opportunities offered by VET for young people, adults and companies.
More about EVSW 2019 here: https://ec.europa.eu/social/vocational-skills-week/
 #DiscoverYourTalent #EUVocationalSkills